Improve cash flow! Knowing patient out of pocket costs has become more critical to practices with the rise in patient responsibility while practice costs continue to rise. The new eligibility display in Medisoft V24 makes it easy to see the patient coinsurance, deductible and other benefit information with a simple, easy to use tabbed format that makes life easier for your staff.
Updated Eligibility Results Verification screen
The bottom section of this screen has been removed. In addition, the Print Results/Details button has been removed and a View Eligibility button has been added. Click this button to open the new enhanced Eligibility Results screen.

Existing Eligibility Verification Results screen
This new screen will display the information that previously was in the bottom section of the Eligibility Verification Results screen. This screen will open when you select an item in the grid and click View Eligibility.

Note: you will see this screen only if your practice's eligibility data is from a version prior to release 24.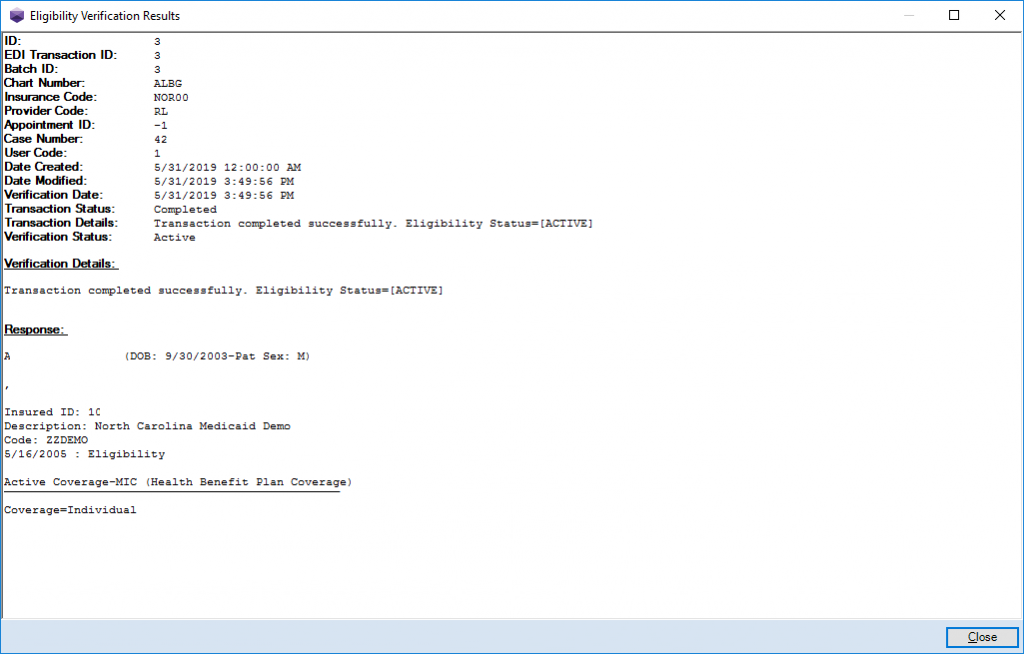 New Eligibility results screen
For practices that upgrade their practice data to release 24, there is a new Eligibility Results screen that opens when you select to view a patient's eligibility. This screen opens in a web browser and connects to a remote service that validates Medisoft registration.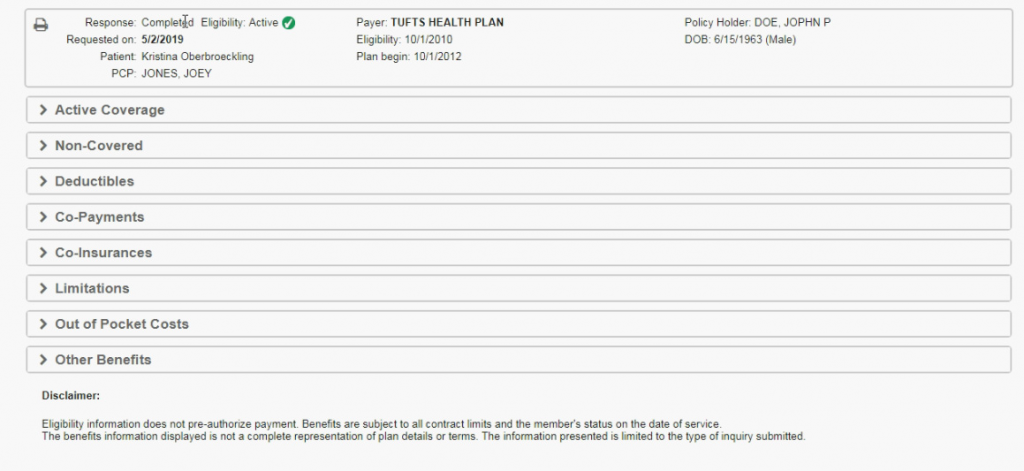 General information appears in the header, along with a green check mark for active insurance health plan coverage.

Several expandable/collapsible sections are availing for drilling down to more detailed information. For instance, the Active Coverage sections shows you the patient's active coverage.

Or the Deductibles section shows you the status of deductibles.

The Other Benefits section shows you information that does not appear in any of the other sections.

You can print the page by clicking the Printer icon in the top left. All expanded sections will print in
expanded form. You can also print a section by right-clicking on that section and selecting Print.