SCHEDULING & RESTORING BACKUPS IN MEDISOFT
Backing up your data is very important! You can schedule backups to run automatically in Medisoft. Please note however, the Medisoft Task Scheduler does take up one user license. You can schedule backups to run, daily, weekly, or as often as needed. It is recommend having at least a week's worth of separate daily backups. To do so, go to File, then Task Scheduler.
Note; If doing separate daily backups, or more than one in general, you'll need to repeat these steps for each one.
Click New to setup a new scheduled backup task. Leave the option, Backup, selected then click OK. Select the database to be backed up, then click OK.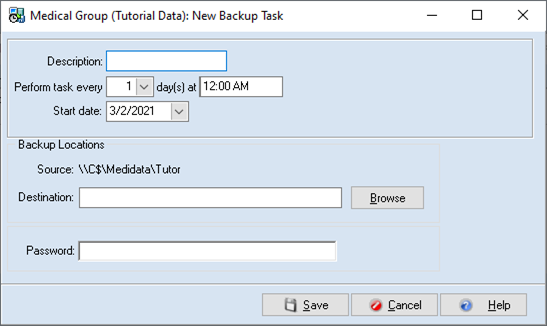 Enter a Description, for example "Monday Auto-backup". Set how often, at what time, and the start date. To do a daily backup, leave the Perform task every setting at "1", to do a weekly backup, set this to "7". Choose a time when all other users will be out of the program, and make sure they do logout every day. If a user is still logged in at the backup time, the backup may not run. Set a Destination, where the backup should be saved at. Setting a Password is optional, and if you choose to set one, be sure to make note of it, as a backup cannot be recovered without it. Click Save when done.
Place a check-mark in the Open on Startup option, this will allow the Medisoft Task Scheduler to start automatically if the server is rebooted. Click New again to setup another backup, or click OK to finish.
To restore a backup, while logged in to that database… first make sure all other users have exited that database. Then go to File, then Restore, then Restore Data. A warning may appear, click OK to continue.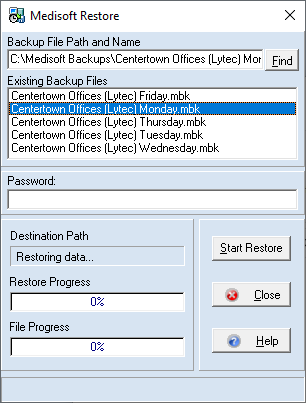 Click Find to browse for the backup file you wish to restore. Select the desired file, then click Start Restore. Once the restore is complete, login to verify the data. Note: If your login password has changed since the last backup, it will be what it was at the time of backup.